2021 Aston Martin Vantage Interior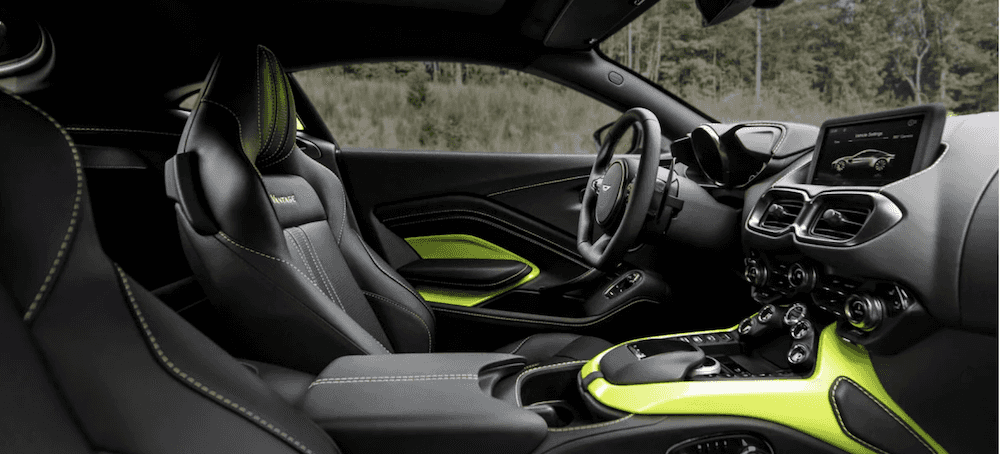 The 2021 Aston Martin Vantage interior cabin is among the most luxurious in the supercar segment. West Palm Beach drivers considering investing in a new Vantage should see what they might expect upon stepping into one of these exclusive vehicles. Read on for a breakdown of the 2021 Aston Martin Vantage dimensions, interior colors, and more from Aston Martin Palm Beach. Then, check out our Aston Martin Vantage lease specials!
2021 Aston Martin Vantage Dimensions
Because supercars need to be as light as possible to improve their aerodynamics, you can expect them to be very small. However, the Aston Martin Vantage dimensions allow it to comfortably seat two in its spacious 47 cubic foot interior. Its trunk is capable of fitting what you'd need for a trip to the golf course or on a drive by the coast with a cargo volume of 7 cubic feet.
2021 Aston Martin Vantage Interior Features
There are loads of standard and available cutting-edge convenience features for Palm Beach Gardens drivers to find inside the 2021 Aston Martin Vantage. Some highlights include the following, but keep in mind you're able to fully customize your Vantage with a range of optional features and packages:
8-inch Display
Aston Martin Audio System
Bluetooth compatibility
Built-in navigation
Full-leather interior
Heated and ventilated seats
Carbon-fiber steering wheel
Embroidered headrests
And more!
2021 Aston Martin Vantage Interior Colors
You have a great variety of 2021 Aston Martin Vantage interior colors to choose from as well. Any Wellington driver will enjoy their pick of the following interior color options:
Leather Colors
Obsidian Black
Wolf Grey
Cote d'Azur Blue
California Poppy
Indigo Blue
Black Metallic
Black Damson
Lords Red
Chancellor Red
Spicy Red
Vivid Red
Dark Mocha
Dark Knight
Aurora Blue
Blue Haze Metallic
Arden Green Metallic
Bitter Chocolate
Red Oxide
Copper Tan Metallic
Oxford Tan
Seat Contrast Stitch Colors
Wolf Grey
Silver
Black Damson
Ice Mocha
Blue Haze
Aurora Blue
Obsidian Black
Chancellor Red
California Poppy
Sahara Tan
Winter Wheat
Cream Truffle
Lords Red
Sandstorm
Dark Knight
Bitter Chocolate
Indigo Blue
Spicy Red
Yellow
Copper Tan
Cote D'Azur Blue
Lime Green
Blue
Tour the Aston Martin Vantage Cabin at Aston Martin Palm Beach
Come to our dealership in West Palm Beach to see the Aston Martin Vantage interior for yourself. Contact us with any questions, and schedule a test-drive ahead of time. Pre-apply for financing, and you'll be able to speed up the process of buying your Vantage!
Recent News From Aston Martin Palm Beach
Since the 2013 agreement between Aston Martin and Daimler AG, Aston Martin vehicles have featured Mercedes-AMG engines. Pairing the innovative aerodynamics of an Aston Martin with the full-throttle thrills of Mercedes-AMG engine design has resulted in some truly landmark supercars, or super crossovers, rather—like the 2023 Aston Martin DBX707. And experts are almost unanimous…

Jupiter-area Formula 1 enthusiasts have a lot to be excited about this past month! On August 1st, 2022, Aston Martin put out a press release announcing that celebrated Formula 1 driver Fernando Alonso will be joining the Aston Martin F1 team in 2023. This was seen as a bold and somewhat unpredictable move, but…

On August 15, 2022, at the prestigious Monterey Car Week, Aston Martin revealed plans for a highly limited, supercharged new two-seater called the DBR22. This Aston Martin concept vehicle is being designed as a celebration of the 10th anniversary of Q by Aston Martin, the legendary automaker's bespoke vehicle division in charge of making…