How Fast is the 2022 Aston Martin Valkyrie Top Speed?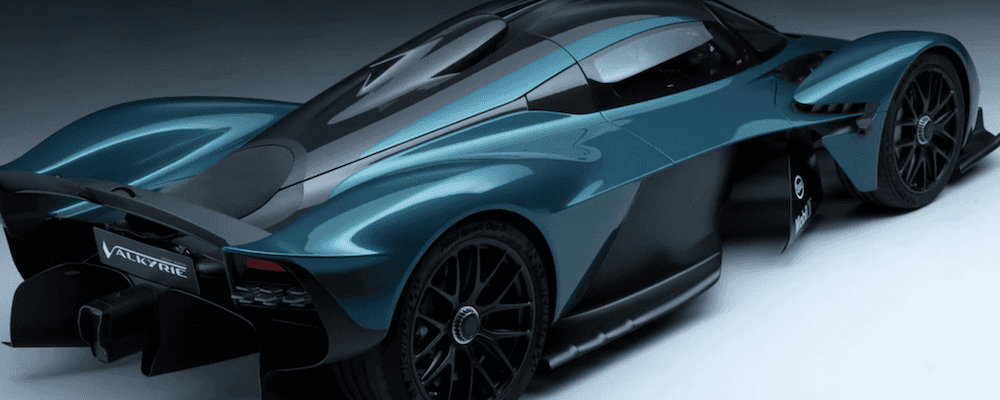 Valkyrie: there's power in this vehicle's name. Heck, there's power to every square inch of it. The Aston Martin Valkyrie, the first hypercar to be made by the brand, holds nothing back from the control of its lucky few drivers, and we couldn't be more excited. With only 150 to be put into production, a lucky few will have the opportunity to drive this amazing vehicle, and one of them could be you. Keep reading to learn more about the blistering 2022 Aston Martin Valkyrie top speed and 0-60 mph time. Then, make sure to contact Aston Martin Palm Beach if you have any questions about Valkyrie or any others from the Aston Martin lineup. Our product experts are happy to help you!
2022 Aston Martin Valkyrie Top Speed
Remember how we said that the Valkyrie doesn't keep anything from its operator? We weren't kidding. Whereas other hypercars produced by brands such as Mercedes-Benz and Bugatti are restricted to a lower max speed, the 2022 Aston Martin Valkyrie races ahead with an unrestricted top speed of 250 mph!
2022 Aston Martin Valkyrie 0-60 MPH Time
Let's imagine ourselves as one of the fortunate few to own a Valkyrie. Let's also imagine ourselves on safe driving's closest thing to a drag-strip: a local Palm Beach Gardens freeway on-ramp. It's a little difficult to imagine the next part, as plunging the gas pedal to the floor is sure to make your heart pound and have you lose all inhibitions. The roaring V12 Aston Martin Valkyrie engine assures you that it can do much more, and you reach zero to sixty in just two and a half seconds. That's right: the 2022 Aston Martin Valkyrie 0-60 MPH time is just 2.5 seconds!
2022 Aston Martin Valkyrie Engine
While there are countless ways to customize the 2022 Aston Martin Valkyrie to truly make it your own, the core reason for owning one has to be it's single available engine: a 6.5-litre Cosworth-Naturally Aspirated V12 with an Electric Motor to assist.
Reserve an Aston Martin Valkyrie at Aston Martin Palm Beach
Aston Martin's flagship hypercar is more than fast: it's a masterclass in speed. Unfortunately, taking one for a test drive isn't too likely, as the market competition to buy a Valkyrie is fierce. Let the finance experts at Aston Martin Palm Beach work to secure your funding for this astounding hypercar. While you're here, be sure to explore our Aston Martin research guides for more information about the Valkyrie, including our comparison between the Aston Martin Valkyrie and Aston Martin Valhalla!
Contact Us to Express Your Interest in Valkyrie
Recent News From Aston Martin Palm Beach
Since the 2013 agreement between Aston Martin and Daimler AG, Aston Martin vehicles have featured Mercedes-AMG engines. Pairing the innovative aerodynamics of an Aston Martin with the full-throttle thrills of Mercedes-AMG engine design has resulted in some truly landmark supercars, or super crossovers, rather—like the 2023 Aston Martin DBX707. And experts are almost unanimous…

Jupiter-area Formula 1 enthusiasts have a lot to be excited about this past month! On August 1st, 2022, Aston Martin put out a press release announcing that celebrated Formula 1 driver Fernando Alonso will be joining the Aston Martin F1 team in 2023. This was seen as a bold and somewhat unpredictable move, but…

On August 15, 2022, at the prestigious Monterey Car Week, Aston Martin revealed plans for a highly limited, supercharged new two-seater called the DBR22. This Aston Martin concept vehicle is being designed as a celebration of the 10th anniversary of Q by Aston Martin, the legendary automaker's bespoke vehicle division in charge of making…