2023 Aston Martin DBX707 Reviews: What Critics Are Saying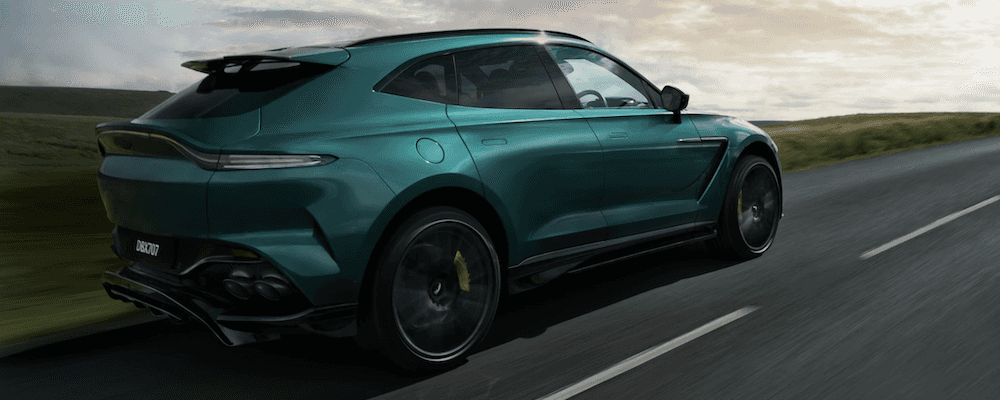 Since the 2013 agreement between Aston Martin and Daimler AG, Aston Martin vehicles have featured Mercedes-AMG engines. Pairing the innovative aerodynamics of an Aston Martin with the full-throttle thrills of Mercedes-AMG engine design has resulted in some truly landmark supercars, or super crossovers, rather—like the 2023 Aston Martin DBX707. And experts are almost unanimous in the agreement that the Aston Martin DBX707 is another landmark. From Car and Driver to MotorTrend, automotive journalists are nothing short of impressed by the power, precision, and skill being brought to the table by this sport-SUV. Explore some of the 2023 Aston Martin DBX707 review highlights with Aston Martin Palm Beach. Then, contact our team to get behind the wheel of your very own in West Palm Beach.
2023 Aston Martin DBX707 Technical Details
Before we get into some of the 2023 Aston Martin DBX707 review highlights, we think it's a good idea for Palm Beach Gardens shoppers to get an understanding of what's being brought to the table. The Aston Martin DBX is impressive, but the DBX707 takes things to another level. First of all, this latest model generates 697 horsepower and 663 lb-ft of torque. It's powered by a twin-turbocharged and intercooled DOHC 32-valve V8 engine, supported by a 9-speed automatic transmission, and has a 0-60 time of 3.1 seconds. Take a look at what the reviewers have to say below in our collation of 2023 Aston Martin DBX707 review highlights!
2023 Aston Martin DBX707 Review: Car and Driver
A critical eye and discerning mind can help lead our customers to success, but there's nothing like the true, guttural feel of a magnificently powerful vehicle. As Aston Martin has made the shift into a new era, in multiple ways, one of the biggest shifts has been putting sport-car power to the body of an SUV. According to Car and Driver:
"Aston Martin has been the most successful in transferring the design language of its sports cars onto an SUV shape."
That's not all though, they also highlight the impressive acceleration rates, leather-lined cabin and sleek design elements as some of their favorite elements of this model.
2023 Aston Martin DBX707 Review: MotorTrend
While we can try to put it as elegantly as MotorTrend, they've done a respectable job of assessing the hard work put into the 2023 Aston Martin DBX707:
"I'm a touch, a skosh, a farthing more than halfway positive that Aston's done the near impossible and beaten the best in industry (the Volkswagen Group) at their own steroidal SUV game."
2023 Aston Martin DBX707 Review: Newsweek
Some of the favorite features highlighted by Newsweek include the drive mode select switches, which make it easier to easily switch between driving modes. They also highlight the comfortable seating, an impressive feature for a sport-oriented model, and end their review with a bundle of compliments:
"It's restrained and bold, and strong and sophisticated. Most importantly, it's beyond competent and one-ups the competition on package appeal. It's the right move at the right time for Aston Martin."
Explore the Aston Martin DBX707 in West Palm Beach
Now that you've read our 2023 Aston Martin DBX707 review highlights, call Aston Martin Palm Beach at 561-556-5468 to make an inquiry in West Palm Beach. And be sure to apply for financing to streamline the process! We look forward to showing you everything else the DBX707 has to offer!
More From Aston Martin Palm Beach
Since the 2013 agreement between Aston Martin and Daimler AG, Aston Martin vehicles have featured Mercedes-AMG engines. Pairing the innovative aerodynamics of an Aston Martin with the full-throttle thrills of Mercedes-AMG engine design has resulted in some truly landmark supercars, or super crossovers, rather—like the 2023 Aston Martin DBX707. And experts are almost unanimous…

Jupiter-area Formula 1 enthusiasts have a lot to be excited about this past month! On August 1st, 2022, Aston Martin put out a press release announcing that celebrated Formula 1 driver Fernando Alonso will be joining the Aston Martin F1 team in 2023. This was seen as a bold and somewhat unpredictable move, but…

On August 15, 2022, at the prestigious Monterey Car Week, Aston Martin revealed plans for a highly limited, supercharged new two-seater called the DBR22. This Aston Martin concept vehicle is being designed as a celebration of the 10th anniversary of Q by Aston Martin, the legendary automaker's bespoke vehicle division in charge of making…