Aston Martin Logo Meaning Explained

West Palm Beach drivers wondering what the Aston Martin car logo signifies are in the right place! Today, we're going to cover the symbolism behind the Aston Martin wings badge in detail. We'll also look at how the Aston Martin wings have evolved over the years. If you have any questions or want to experience the quality design beyond the hood ornament, apply for financing and contact us to schedule an appointment.
History of the Aston Martin Wings & Their Evolution
The earliest known iteration of the Aston Martin car logo was introduced in 1921: a simple "A" and "M" inside of a black, double-lined circle. The Aston Martin wings badge wasn't introduced until 1927. It was less spartan then, featuring the name of the company in an Art Deco font across two highly-detailed wings.
From there, the logo underwent several more iterations:
1930: The logo's design was simplified while maintaining the same idea, resembling today's logo but with slightly more upraised wings. In 1932, the wings were straightened out.
1947: When the company was acquired by David Brown, his name was added above the name of the company.
1971: Brown's name remained on the logo until 1971, when the company was acquired by Company Developments Ltd. They removed his name and the Aston Martin logo came to resemble the form it has taken today.
2003: The font for the company name was thinned out and sharpened, but the Aston Martin car logo you've seen on the streets of Jupiter has remained relatively unchanged.
2022: After nearly 20 years, the Aston Martin logo was yet ago redesigned in 2022. This most recent update brings with it an even more streamlined wing pattern and new typeface for the Aston Martin name. This logo will begin appearing on Model Year 2023 Aston Martin vehicles.
Aston Martin Wings Logo Over the Years in Pictures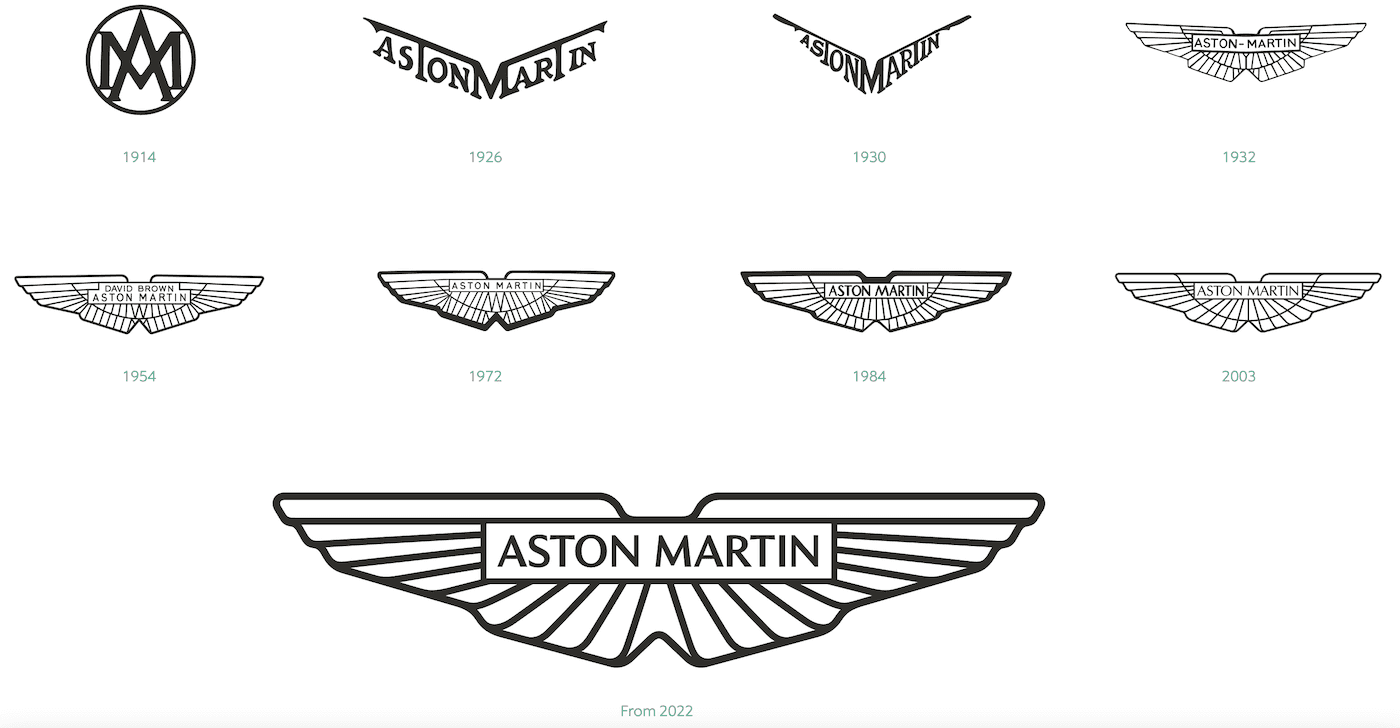 Symbolism Behind the Aston Martin Wings Badge
The symbolism behind the Aston Martin car logo is really quite simple. Its black, green, and white color scheme only employs colors that traditionally symbolize elegance and refinement. The Aston Martin wings simply symbolize speed, freedom, dreams, and exploration!
Test Drive the Quality Design Behind the Aston Martin Logo
Want to know more about the Aston Martin car logo? We're happy to answer any questions you may have about the Aston Martin wings. We can also set you up with some test drives, so you can see the Aston Martin wings badge for yourself and experience the smooth handling and elite performance it represents. Have more questions about the Aston Martin legacy? Be sure to read our article on where Aston Martins cars are made!
More From Aston Martin Palm Beach
Since the 2013 agreement between Aston Martin and Daimler AG, Aston Martin vehicles have featured Mercedes-AMG engines. Pairing the innovative aerodynamics of an Aston Martin with the full-throttle thrills of Mercedes-AMG engine design has resulted in some truly landmark supercars, or super crossovers, rather—like the 2023 Aston Martin DBX707. And experts are almost unanimous…

Jupiter-area Formula 1 enthusiasts have a lot to be excited about this past month! On August 1st, 2022, Aston Martin put out a press release announcing that celebrated Formula 1 driver Fernando Alonso will be joining the Aston Martin F1 team in 2023. This was seen as a bold and somewhat unpredictable move, but…

On August 15, 2022, at the prestigious Monterey Car Week, Aston Martin revealed plans for a highly limited, supercharged new two-seater called the DBR22. This Aston Martin concept vehicle is being designed as a celebration of the 10th anniversary of Q by Aston Martin, the legendary automaker's bespoke vehicle division in charge of making…