2024 Aston Martin Valhalla Preview: Price, Release Date & More!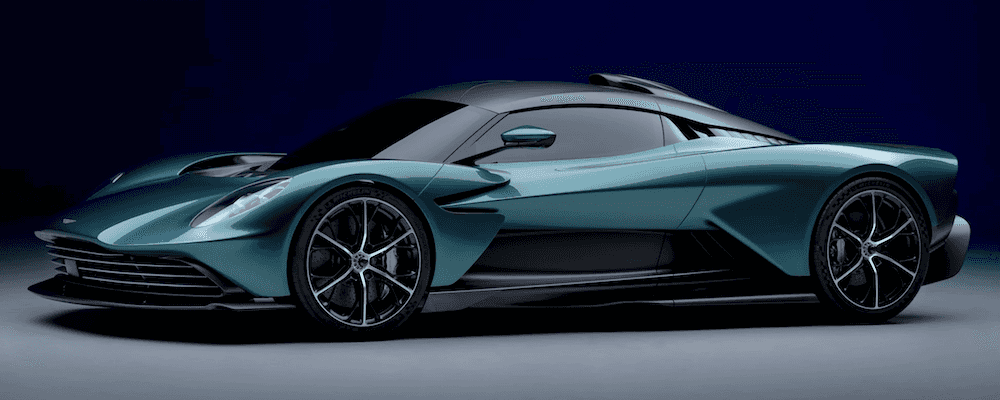 Aston Martin vehicles have always turned heads around West Palm Beach, but none quite like the next big thing in automotive design: the 2024 Aston Martin Valhalla! This is what automotive dreams are made of, and only the most elite Jupiter drivers will be able to get behind the wheel of one. Learn more here about the 2024 Aston Martin Valhalla price, engine specs, and design highlights, and then contact us to be notified about the much-anticipated Aston Martin Valhalla release date.
2024 Aston Martin Valhalla Performance Specs & Top Speed
The team at Aston Martin Palm Beach is getting a lot of questions about the Valhalla, such as, "How much will the Aston Martin Valhalla cost?" Before getting into pricing, let's look at its extraordinary performance, which will give the Ferrari SF90 Stradale a run for its money on Palm Beach Gardens streets! This is what we know so far about the Aston Martin Valhalla's jaw-dropping performance:
Engine: Twin-turbo 4.0-liter V-8
Horsepower: 937 horsepower
0-60 Acceleration: 2.5 seconds
Drivetrain: All-wheel-drive hybrid
Aston Martin Valhalla Top Speed: 217 MPH
2024 Aston Martin Valhalla Price: How Much Will It Cost?
By now, you're probably starting to salivate thinking of yourself sitting in the driver's seat of one of these babies when they finally hit the showroom floor. What can you expect for the 2024 Aston Martin Valhalla price? The Valhalla should cost somewhere around $800,000, but it will be a driving experience you'll never forget, and how can you put a price on that?
2024 Aston Martin Valhalla Interior Design & Features
With carbon fiber throughout and its exotic nature accentuated by its dihedral doors, this is a sports car for the best of the best. Some notable points include the roomy cabin that is more spacious than its cousin, the Valkyrie. The seats are fixed to the chassis, so the steering wheel and pedals move instead. The foot wells are raised to provide a dynamic low hip-to-heel seating position. The all-new Aston Martin user interface system includes a central touchscreen display with Apple CarPlay and Android Auto connectivity. You'll also enjoy dual-zone air conditioning and a suite of driver-assistance systems, such as forward collision warning and blind-spot monitoring.
2024 Aston Martin Valhalla Release Date
When is the Aston Martin Valhalla scheduled for release at an Aston Martin dealership near you? The 2024 Aston Martin Valhalla release date is currently scheduled for the end of 2023, so you can expect to see it in our showroom at that time.
Learn More About the Aston Martin Valhalla at Aston Martin Palm Beach
Contact us to keep informed of updates to the Aston Martin Valhalla price and release date by calling 561-556-5468. If you can't wait that long to get behind the wheel of a new Aston Martin, come browse our new vehicles or pre-owned models. Let's make your automotive dreams a reality today!
Contact Us to Express Your Interest in the Valhalla
Recent News From Aston Martin Palm Beach
Since the 2013 agreement between Aston Martin and Daimler AG, Aston Martin vehicles have featured Mercedes-AMG engines. Pairing the innovative aerodynamics of an Aston Martin with the full-throttle thrills of Mercedes-AMG engine design has resulted in some truly landmark supercars, or super crossovers, rather—like the 2023 Aston Martin DBX707. And experts are almost unanimous…

Jupiter-area Formula 1 enthusiasts have a lot to be excited about this past month! On August 1st, 2022, Aston Martin put out a press release announcing that celebrated Formula 1 driver Fernando Alonso will be joining the Aston Martin F1 team in 2023. This was seen as a bold and somewhat unpredictable move, but…

On August 15, 2022, at the prestigious Monterey Car Week, Aston Martin revealed plans for a highly limited, supercharged new two-seater called the DBR22. This Aston Martin concept vehicle is being designed as a celebration of the 10th anniversary of Q by Aston Martin, the legendary automaker's bespoke vehicle division in charge of making…