Introducing the F1 Aston Martin AMR21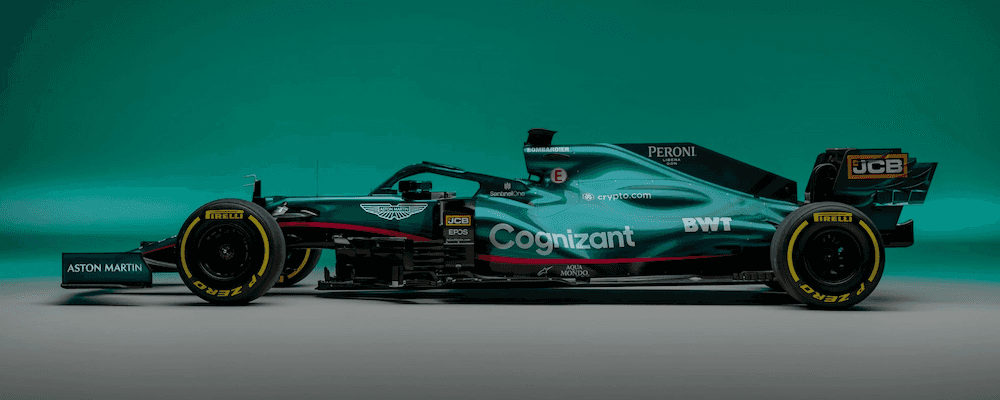 The Aston Martin Cognizant Formula One Team is gearing up for 2021 with the debut of the spectacular Aston Martin AMR21, and auto enthusiasts around the globe are celebrating. While the brand is no stranger to classic competitions like the 24 Hours of Le Mans race, the Aston Martin Formula One legacy is just beginning with the new AMR2, along with some surprising help from the Vantage and DBX! Learn all about the Aston Martin F1 debut and racing history with Aston Martin Palm Beach.
Aston Martin Racing History
Well before the Aston Martin Cognizant Formula One Team, the Aston Martin was a regular in the competitive Grand Prix racing of the 1920s. Throughout the 1950s and 1960s, the Aston Martin name was well known for its stunning performance in the Le Mans with its DBR1 and DB3S, but it failed to find the F1 success that it hoped to achieve. As a result, the 2021 Aston Martin F1 debut has been the talk of West Palm Beach auto aficionados. Now 60 years later, the Aston Martin AMR21 is ready to bring the brand to soaring new heights on the Formula One circuit.
Aston Martin AMR21
The Aston Martin Cognizant Formula One Team unveiled the Aston Martin AMR21 for the 2021 racing year and announced it would be driven by four-time world champion Sebastian Vettel, along with partner Lance Stroll. Here are just a few highlights from this Aston Martin Formula One model reveal:
The Aston Martin F1 car was painted in a bold Racing Green in recognition of the brand's traditional racing colors, along with pink accents in honor of the previous sponsor BWT.
After new mandatory FIA regulations were announced in late 2020, the Aston Martin Formula One team quickly moved to adapt the chassis to satisfy the criteria while maximizing aerodynamics. Though challenging, the Aston Martin AMR21 emerged stronger than ever.
The AMR21 utilized a Mercedes-Benz engine with the championship-winning gearbox from 2020, but the Aston Martin F1 put its own twist on the gearbox design for 2021.
Additionally, the Aston Martin Vantage will play a role intervening and controlling the pace, and the Aston Martin DBX SUV will act as the Official Medical Car of Formula 1 racing. So not only can you find these models on the streets of Jupiter, but also in the most prestigious race in the world.
Learn More With Aston Martin Palm Beach
Want to experience the Aston Martin brand up close? Palm Beach Gardens area drivers can experience the thrill of this iconic brand with a trip to Aston Martin Palm Beach. Call us at 561-556-5468 with any questions, or simply stop by our dealership in West Palm Beach. Take a moment to explore our Aston Martin information guides while you're here! You'll find other helpful reads about the brand, like our breakdown of the symbolism in the Aston Martin logo!
Recent News From Aston Martin Palm Beach
From Friday, February 24th, 2023 to March 19th, 2023, twenty-one of the country's leading architects and designers will convene at 3240 N. Flager Drive in the Northwood Shores neighborhood of West Palm Beach. These designers will transform the Flager Drive property into a show house and host the top design event of the year in…

Palm Beach Gardens drivers who have wondered, "How much does an Aston Martin cost?" won't get a simple answer. If you're wondering about Aston Martin price, be that the cost of the Aston Martin Vantage, the Aston Martin DBS, the Aston Martin DB11, or the Aston Martin DBX, the fact is that, when shopping for the absolute…

You want one of the best luxury sports cars on the market today, and we've got what you need right here at Aston Martin Palm Beach. The 2023 Aston Martin Vantage is about as good as it gets when you want to zip down the highway, show up to your business in style, or pretend you're a secret…